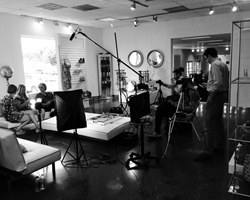 Saint Louis, MO (PRWEB) September 03, 2014
Sue McCarthy, Diana Ford and Laura Maurice continue their journey in the fashion, style and reality entertainment world by opening a new womens resale shop in St. Louis and deciding to document it through video. This mother and daughter trio were formerly featured on Style Networks Resale Royalty. As fans know, the TV story ended around the same time that the fashionable family decided to open a new location. The show hinted at the scale and size of the new store and now fans can finally see it for themselves! The Vault, the second store opened by the Womens Closet Exchange owners, opened in the summer of 2014 and that is where the new story begins. Designer handbags, shoes and clothing are available at the gorgeous new location and online store. Fans will be happy to know they can still find authentic Louis Vuitton, Gucci and Bottega Veneta bags, alongside Jimmy Choo and Prada shoes, Chanel and Hermes apparel. And, like always, the deals are amazing!
A new web series that details The Vault, appropriately entitled, Behind the Vault, premieres on YouTube and Vimeo on September 3, 2014 just in time for the fall fashion season. The film shorts tell viewers about the challenges the owners and staff have faced while opening a new location after over 25 years in their original space. It also details ever-interesting closet buys in million dollar mansions and stars homes, in addition to style tips and fashion blunders. The changing lives of Sue, Diana, and Laura are also told as they experience their own inevitable growing pains.
To kick off the show, a Behind the Vault sweepstakes has been announced. Viewers will have the chance to win the grand prize of airfare, hotel, and a tour of Manhattans best resale shops with the stylish trio. A runner-up prize will also be given, which is a $ 500 shopping spree that can be used at The Womens Closet Exchange, The Vault or the online store. Find all of the information at: http://www.womensclosetexchange.net/behind-the-vault-sweepstakes/
Press Inquiries please contact Diana Ford at 314-707-4103
More Prada Press Releases